DEPARTMENT OF GENERAL ENGLISH AND ENGLISH FOR SPECIFIC PURPOSES (DEPT. OF GE & ESP)
Address: 411, 30/4 street, Ninh Kieu district, Can Tho city

Introduction
The Department of GE and ESP was established together with the School of Foreign Languages on March 31st, 2015. The staff are from various departments in Can Tho University, including Department of English Teacher Education (School of Education), Department of English (School of Social Sciences and Humanities), and the Center for Foreign Languages. The Department is not responsible for any Bachelor training programs but is assigned to coordinate the General English programs for all training disciplines of Can Tho University, the foundation English modules for Advanced and High Quality Programs, and English for specific purposes in tourism and political sciences.
Mission
The Department of GE and ESP has a major responsibility to assist students to develop their ability to use English well in their studies and endeavors. We are committed to providing innovative and state-of-the-art curricula, classroom materials, superior instructions, and the best opportunities for practice in an ideal learning environment to EFL students.  
Staff
Currently, the Department has 17 lecturers who are fully qualified for the training programs. All of the staff members have obtained M.A degrees in TESOL, Applied Linguistics, Education, etc. Among them, there is a Ph.D holder and five doctorate candidates.
The management board of the department includes 03 people: 01 Head of the Department to be in charge of general management, 02 Deputy Heads to assist the Head in specific fields; and 01 office secretary to support with the paper work.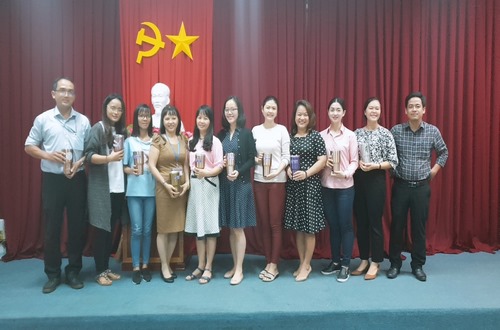 List of staff:
| | | | | | |
| --- | --- | --- | --- | --- | --- |
| No | Full name | Code | Degree | Email | Title |
| 1 | Tran Quoc Hung | 195 | MA, PhD candidate | This email address is being protected from spambots. You need JavaScript enabled to view it. | Senior lecturer |
| 2 | Huynh Trong Nghia | 201 | MA | This email address is being protected from spambots. You need JavaScript enabled to view it. | Lecturer |
| 3 | Le Cong Tuan | 214 | MA | This email address is being protected from spambots. You need JavaScript enabled to view it. | Lecturer |
| 4 | Dao Minh Trung | 1060 | MA, PhD candidate | This email address is being protected from spambots. You need JavaScript enabled to view it. | Lecturer |
| 5 | Vo Kim Huong | 1426 | MA | This email address is being protected from spambots. You need JavaScript enabled to view it. | Lecturer |
| 6 | Le Xuan Mai | 1611 | PhD | This email address is being protected from spambots. You need JavaScript enabled to view it. | Lecturer, Head of Department |
| 7 | Khuu Quoc Duy | 1617 | MA | This email address is being protected from spambots. You need JavaScript enabled to view it. | Lecturer, Deputy head |
| 8 | Pham Mai Anh | 1633 | MA | This email address is being protected from spambots. You need JavaScript enabled to view it. | Lecturer |
| 9 | Dong Thanh Hai | 1884 | MA, PhD candidate | This email address is being protected from spambots. You need JavaScript enabled to view it. | Lecturer, Deputy head |
| 10 | Nguyen Thi Kim Thi | 2079 | MA | This email address is being protected from spambots. You need JavaScript enabled to view it. | Lecturer |
| 11 | Phan Thanh Ngoc Phuong | 2380 | MA | This email address is being protected from spambots. You need JavaScript enabled to view it. | Lecturer |
| 12 | Nguyen Phuong Bao Tran | 2381 | MA, PhD candidate | This email address is being protected from spambots. You need JavaScript enabled to view it. | Lecturer |
| 13 | Nguyen Khanh Ngoc | 2401 | MA | This email address is being protected from spambots. You need JavaScript enabled to view it. | Lecturer |
| 14 | Ly Thi Anh Tuyet | 2487 | MA | This email address is being protected from spambots. You need JavaScript enabled to view it. | Lecturer |
| 15 | Vo Thi Tuyet Hong | 2488 | MA | This email address is being protected from spambots. You need JavaScript enabled to view it. | Lecturer |
| 16 | Tran Thi Thanh Quyen | 2532 | MA, PhD candidate | This email address is being protected from spambots. You need JavaScript enabled to view it. | Lecturer |
| 17 | Huynh Thi Anh Thu | 2557 | MA | This email address is being protected from spambots. You need JavaScript enabled to view it. | Lecturer, Secretary of Youth Union |