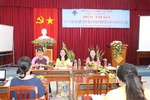 On October 28, 2020 afternoon, the School of Foreign Languages held a workshop on "Improving the effectiveness of classroom- observing practice of English Language Teacher Education and French Language Teacher Education Departments" at 7B Hall. 
In recent years, postgraduate education in the School of Foreign Languages has been regionally extended. Master of Arts in Theory and Methodology of English Language Teaching is an intensive full-time course that attracts learners who are teaching at high schools and English centers in the Mekong Delta.
Trong những năm qua, Trường Đại học Cần Thơ đã chuyển mình mạnh mẽ trong việc đổi mới và cải tiến nội dung, phương pháp giảng dạy nhằm mục đích nâng cao chất lượng dạy học, phát huy tính chủ động tích cực và tự học của sinh viên, giúp sinh viên hội nhập vào mội trường giáo dục quốc tế.
Trong xu hướng đó, nhằm tạo điều kiện cho sinh viên Ngoại ngữ có môi trường sinh hoạt học thuật và nâng cao năng lực nghiên cứu khoa học. Chủ nhật, ngày 08 tháng 10 năm 2017 Khoa Ngoại ngữ đã tổ chức Hội nghị NCKH dành cho sinh viên trong khoa. Đây là dịp để sinh viên trình bày những ý tưởng nghiên cứu hay giới thiệu kết quả các đề tài đã thực hiện, chia sẻ những suy nghĩ, khó khăn cũng như những kinh nghiệm, phương pháp học tập, nghiên cứu trong quá trình học tập của mình.
 Ông Trịnh Quốc Lập – Trưởng Khoa Khoa Ngoại ngữ - phát biểu khai mạc
   Ban Cố vấn Khoa học
Một vài hình ảnh buổi báo cáo NCKH Sinh viên Khoa Ngoại ngữ 2017